---
1976
Painting training at Kaga Yuzen Kimono Studio
1982〜
Independence. After that, in order to produce a work that is convincing, she will continue his artist activities centered on solo exhibitions for 40 years without registering as a member (registration of seals).
Held many solo exhibitions in Japan and overseas
1982 
First solo exhibition in Argentina
1983
Studied under Kunihiko Nitta
2000  
Published by the Ministry of Posts and Telecommunications 2000 New Year's postcard Ishikawa Prefecture version illustration "Kenrokuen Yukitsuri" production
2004  
Solo exhibition at FLUSSO Gallery, USA (SOHO, New York))
2005 
Solo exhibition "Drama of Life" at United Nations Headquarters in New York
2007
MSA (Maltilayered Spatial Art) work "Kasumi ga Sane" announced
Solo exhibition of MSA works at 21st Century Museum of Contemporary Art, Kanazawa
2010 
First exhibition of digital art works (Giclee) (Tokyo Camellia) Arts Alive project
2010 
Stage video production Shinnosuke Fujima "Wa Kokoro Mai" (Kanazawa / Akabane Hall)
2013 
Collaboration with Disney Pixar movie (Monsters University) Kaga Yuzen Furisode production
2016  
Received the Excellent Entrepreneur Award at the Innovative Venture Business Plan Contest Ishikawa 2016 (Heisei Kano School Project)
2016   
Established Uesaka Co., Ltd.
2016 
Announcement of wall art work at JAPNTEX 2016 (Collaboration with Lintec Sign System Co., Ltd., Tokyo Big Sight)
2017  
Hotel Nikko Kanazawa produces suite room "Shiki MIYABI"
2017〜 
Kanazawa Maimon Sushi wall art series "Four Seasons Wa" production started
"Ueno store, Kyoto store, Nagoya store, Tokyo Sangenchaya store, Kanazawa Shinkanda store, Hakusan interchange store, Shibuya store, Taiwan Taipei store, Takasaki store, Isezaki store, Saitama Yoshikawa Minami store"
2018 
New Kaga Yuzen Kimono Project
(Collaboration with Kanazawa Kimono Rental "Kokoro")
2020 
Established "Kaga Yuzen Writer UESAKA Kimono" and "UESAKA Creative Division" (business alliance with Sunrise Co., Ltd.)
2021
Movie "A Morning of Farewell" Completion Preview Screening Sayuri Yoshinaga Kimono (Hand-painted Kaga Yuzen) Production (Tokyo International Forum)
Open call exhibition, Japanese art exhibition, Japan New Crafts Exhibition, etc. Selected
◇………………………………………………………………………………◇
(1998) Broadcast of NHK archipelago document "I want to draw a picture with Yuzen"
(2005)Broadcast "From Ishikawa to the World" Ishikawa TV / BS Fuji   
(2006)「Tokimeki Talk "Kanazawa CT
(2010) NHK report "Kaga Yuzen in CG work" aired
(2013)"Visit a female writer in Hokuriku and go around the way of life, Maho Toyota" Ishikawa TV
(2015)Broadcast of "New Hometown People and People" Ishikawa TV
(2018) Video introduction in Adobe Creative Cloud "User Case Study"   
  (2018)   New Kaga Yuzen Kimono Project aired on NHK KAGANOTO Evening
・ Introduced in many other media
◇………………………………………………………………………………◇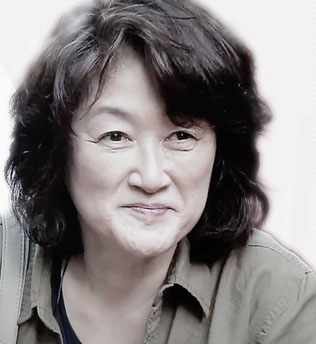 Forty years ago, with the desire to create works that were convincing, we decided not to choose the path of mass production system led by wholesalers (registration system for "union members"), but to create works with full order (customized works) by one person in the industry. I chose. When I look at the current state of the Kaga Yuzen world, I think that the decision I made after my youth was not wrong.
I did all the processes of designing, sketching, gluing, and coloring by myself, and instead of making the same work as one, I made a real one-of-a-kind item. The traditional technology of Kaga Yuzen, which was cultivated only in the daunting creative activities, has become the technological foundation of modern cutting-edge digital design creation as it is. I am impressed by the exquisite relationship between traditional analog technology and modern digital technology that involves life.
I'm really glad that I've been doing the "serious" writer activity that I believe in.
From now on, I would like to make efforts to develop truly excellent young artists who will lead the next generation.
---

Articles for solo exhibitions in Argentina
 FLUSSO Gallery solo exhibition
United Nations solo exhibition

 Stage video (Kanazawa / Akabane Hall)

 Named "Kaga Karatsu" in collaboration with the late potter Kunio Moriyama

 MSA(多層空間造形 MSA;Maltilayered Spatial Art)

Collaboration with Disney Pixar Movies

Work discussion with actress Maho Toyota
JAPANTEX2016 (Collaboration with Lintec Sign System)
New Kaga Yuzen Kimono Project NHK Location